Despite my predilection for being omnivorous, I see myself as an extreme lover of all animals.
I'm no granola girl, living under the delusion that animals are innocent and pure. But I believe animals are capable of having interesting personalities, becoming attached to people they spend time with, and overall deserving of the same rights as we do. I am the weirdo who is equal parts a fan of cats and dogs as well as snakes and large lizards, which I believe is why I fell so fast and hard for the Pokemon series.
I'll take one of each, please.
In fact, if you take a step back, you find that anime, in general, has a similar infatuation with animals, ranging from cute, to horrific, to all uncanny creations in-between.  Anime is a fantastic medium to handle stories and concepts that revolve around our furry and scaly friends. because it offers a wider range of possibilities for writers and artists alike.
The Cute is Off The Scale
Let's start by getting the obvious one out of the way: They get to be so damn adorable when you draw them with an anime pen.
Because adorable mascot = profit.
With the overuse of big eyes, sparkles, and a whole bucket of other "Kawaii desu" traits, it's no shocker here that anime can make cuties that sell plush dolls like mad. But where it really becomes clear that this is a match made in heaven is when Anime's more weird traits start to flex themselves and you still get something that's so adorable, you just wanna squeeze it till it squeaks.
 Case in point, I am forever in love with a new edition to the Ghost Pokemon ranks, straight from Alola, Mimikyu. This pokemon is scary in concept; it hides under this horrible Pikachu costume because it's so ugly, so hideous, those who look at it will die. But I found this aspect of the pokemon sympathetic, and the costume looks so bad it cycles back into adorable. It's a like a child tried his hardest to draw a Pikachu and accidentally made something freaky, and I just love it.
Different Personalities on Parade
This is something you don't get unless you've owned a few animals, which I have. Everyone has this stereotypical idea of certain types of pets all behave: cats are all aloof, dogs are always hyper, etc. But any pet owner will tell you that each animal may share some traits with others of its kind, but will ultimately have a unique personality. They may be very sweet and affectionate, or maybe they're skittish and aloof.
 The problem is that these lovely creatures can't exactly communicate the same way we do; it can be hard to tell what your pet's inner workings are unless you spend some time with them. And then you enter them into the world of cartoons, which allows for them to be twice as expressive and communicate in ways they can't in real life. Add onto that anime's love of making personalities that are wild, radical, and just plain silly, and you're going to find yourself in love a lot.
To paint a picture for you, another favorite show I had, growing up, was the overtly cute Hamtaro, an anime exclusively devoted to a humanized hamster and his buddies. And he had a lot of buddies.
Each one of these little critters got to be distinguished not just by their looks. Each had exaggerated personality traits like being posh, adventurous, super smart, or super skittish. Anime allows writers to take the personalities we may see or project onto our pets and bring them to life, and that joy gets transferred to anyone who happens to watch it.
No Limits on Anatomical Imagination
You'll notice for these past few reasons that I've stayed in the realm of "cute and cuddly." We leave that behind for our last one. Because not everything in nature wants you to give it a hug.
There's a primal fear in all humans of dangerous critters that knock us off the top of the food chain. That fear can spawn amazing stories in the horror genre – when handled correctly anyway – and anime is no exception. It has a decent history of making horror material, so imagine what can happen to that fear when there are no limits to what that animal can look like. Imagine a place where your most twisted, disgusting creatures on four legs can come out front and center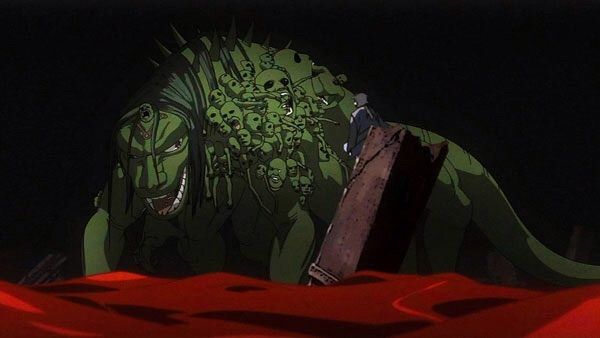 Envy from Fullmetal Alchemist: Brotherhood is a beautiful reveal to just how scary this can get. This homunculus' true form is the skull-laced green meanie you see on your left, adding a whole new meaning to the phrase "Green Eyed Monster." You have the ability to stretch so much farther with horrific anatomy in anime than other mediums, making it the defacto genre for "scary critters" as far as I'm concerned.
And that's where the heart of the success behind our furry, four-legged friends/enemies is. They aren't bound by modern special effects or real-world biology in anime, allowing for greater creative expression. They can be your cute friends or worst nightmares, with the limits only being the writer's imagination.
Why do you think animal stories work so well in anime? Feel free to comment below. Don't forget to like and follow for more content like this. Posts every Saturday, Sunday for late posts.