Welcome, my friends, to the Otaku-war!
It's an argument as old as anime itself: You are not an Otaku if you only watch mainstream anime.  I can agree that "Otaku" implies that you've seen more than the likes of One Piece or Fairytale, but I draw the line at those who say you still aren't an Otaku even if you watch the more obscure shows on top of the popular stuff.  It's the stuff of hipsters and it's extremely annoying.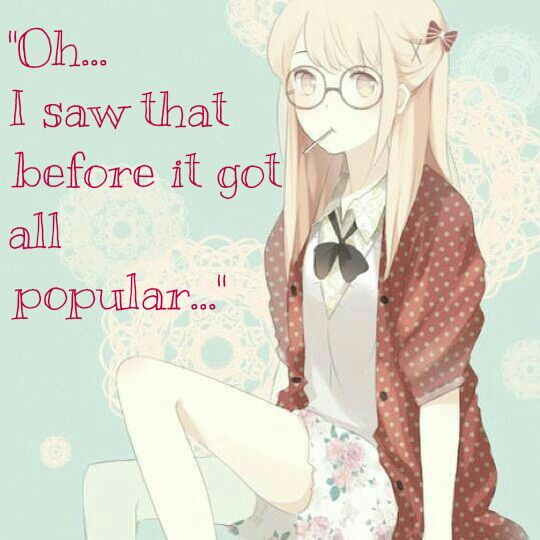 Safe to say I don't do that. In fact, I make a conscious effort to see the more nerdy, obscure shows and the mainstream success stories. Both are equally important branches of the medium as far as I'm concerned, but for very separate reasons. 
Hype is Not Always a Bad Thing
Hype aversion is the tendency to fly far away from that which has massive fans. Media that suddenly finds itself surrounded by admirers tends to scare off casual interest, mostly because said fan base has a chance of becoming… obsessive. Take, for example, the My Little Pony franchise that suddenly found itself surrounded by grown men, grown men who used to have a reputation for being insane. Not so much these days, though the few who went the extreme end certainly didn't help.
Ah, but if my time spent watching shows like Stranger Things and Avatar has taught me anything, it's that sometimes those crazy fans have gone crazy for a reason.  Sometimes, the hype is legitimate. Sometimes, the hype is undeserved for a mediocre product. But you won't know one way or the other if you don't sit down and watch it for yourself.  You could miss out on some golden writing if you avoid everything that has a huge return to it, something any anime fan should find disappointing.
You Can't Hate What You Haven't Consume

d
But let's say, for the sake of argument, that it wasn't that good. Let's pretend that we found Light to be pretentious and cliche (he's not) and that L is annoying and childish (he can be). If the story were really this preachy, over-edgy monstrosity, one that deserved a proper thrashing for being overrated, how the hell would you criticize it if you've never seen it? Furthermore, what if it started good and then crashes later, and you weren't there for the ride?
Let the hate-watching commence!
Anime is a strange beast because, usually, it's based off content that's still in progress.  When the manga/live-action show is popular enough to warrant an anime before the big climax, you'll often see the famed Adaptation Decay take place along with some facepalm-worthy attempts to cover it up. 
But if you weren't one of the people following before it went belly up, your ability to say how much it sucks is reduced significantly. Case in horrific point: the beautiful disaster that was Fullmetal Alchemist in 2003. While the beginning of the anime had some distinct differences from the manga, it still held enough value to be a decent adaptation. Then the story went it's own way – with Arakawa's blessing – and started introducing plot points that were downright stupid when compared to the original story. I knew this was the case, but I still waited for so long to get the full story. Now that I have it, I have a stronger arsenal on me to demonstrate to others why they're better off skipping straight to Brotherhood.
It's Often The Only Thing Non-Anime Fans Have Watched
Y'all remember the normies. They're those folks with the flashy phones who wanna talk about Stranger Things and Game of Thrones instead of that new anime on Netflix. We as a group also like those shows (usually) but the buck tends to stop when you wanna talk about how Ajin can't properly pronounce its lead's last name in the dub, or how much you liked Kino's Journey. 
That leaves us with what they likely went out of their way to see: Fullmetal Alchemist, Naruto, One Piece, Attack on Titan, and so much more. Non-anime fans tend to gravitate to shows that are less structured in traditional and modern Japanese culture, and only those that gain enough momentum to be assimilated into pop-culture. They may even be fans of the biggun's from back in the day (DBZ, Sailor Moon, Cowboy Bebop) and not so much the new big guys.
Though they may not recognize it anymore.
My point is that watching the mainstream anime gives me common ground with more people. It makes my favorite hobby seem less strange and outlandish if I can center it with something others have seen and enjoyed. It's about guiding away from the stereotype of the hikikomori in the basement and into a regular person.  Because, sad to say, they aren't always as adorable as Ryuzaki.
Dat face, though…
When I lay all my reasons on the table, I see a common thread among them: art. Good art is good art no matter how popular it is and bad art can only be criticized by those who consume it in some fashion. I had low hopes for shows like Neo Yokio but tried them anyway; I had high hopes for Attack on Titan and feel grateful to have seen it. Successful shows that become super popular outside of anime deserve just as much attention as the obscure, more niche titles because there's no sense in missing out because you wanna avoid the crowd. It may very well be good and you'll never know if you ignore it.
What do you think about mainstream shows vs. niche shows? Feel free to comment below with your awesome opinions, and don't forget to like and follow for more content.